---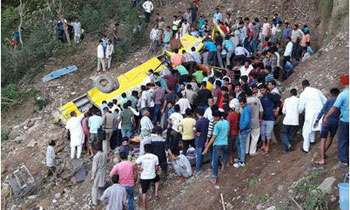 Thirty, including 27 children, were killed as a school bus plunged off a mountain road in Himachal Pradesh on Monday, said State transport Minister Govind Singh Thakur.
The school bus carrying more than 30 children swerved off the road and fell into a gorge. Rescue teams have reached the scene and recovery operations were underway.
The bus was transporting children studying at a private school in Nurpur town, 300 km (185 miles) from Shimla, the state capital.
India has the world's deadliest roads, with almost 150,000 people killed in accidents in 2015, the latest government data shows. (Economic Times)