---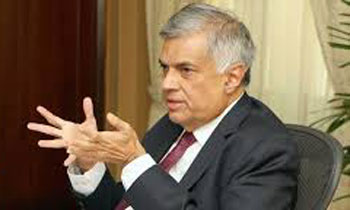 Amendments to the Local Government Act not consistent with its nature, would be excluded during the Committee Stage of the debate, Prime Minister Ranil Wickremesinghe told Parliament today.
The Premier came up with this statement in response to a question raised by the Opposition on the Bill last afternoon.
Chief Opposition Whip Anura Kumara Dissanayake, who raised a question on the matter inquired into what the Government intended doing with a large number of amendments, which he said were not consistent with the very nature of the Local Government election Bill.
"You are saying you will bring new amendments to the Bill, but there are a large number of amendments, which are inconsistent with the very nature of the Bill," he said.
Joint Opposition MP Vasudeva Nanayakkara also raised a similar issue but highlighted that the new amendments should be in the hands of the MPs so that they would have sufficient time to study them.
"Don't get into the wrong impression that the Opposition is trying to delay the Local Government election," he said.
Prime Minister Wickremesinghe in response said all inconsistent amendments would be excluded, while anyone could present new amendments during the Committee Stage.
Leader of the House Lakshman Kiriella said the debate on the Local Government election Bill would be taken up tomorrow. (Yohan Perera and Ajith Siriwardana)