---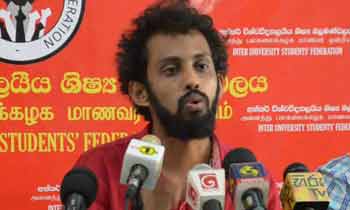 The Inter University Student Federation (IUSF) yesterday charged that it would take stern action against the government if IUSF Convener Lahiru Weerasekara and the Inter University Bhikku Federation (IUBF) Convener Ven. Tampitiye Sugathananda Thera are not released immediately.
IUSF Acting Convener Mangala Maddumage said Lahiru Weerasekara, and Faisal Ahamed, a Moratuwa Engineering Faculty student were arrested yesterday on charges of damaging state property and violating Court orders.
He further said Ven. Tampitiye Sugathananda Thera was arrested when he was in the hospital on Thursday.
He said Lahiru was arrested for the third time and the Thera was taken into custody for the second time.
Meanwhile IUSF convener Lahiru Weerasekara denied yesterday just before being arrested a statement reportedly made by President Maithripala Sirisena that it had demanded the Neville Fernando Hospital be listed in the stock market.
He said that the IUSF demand was to nationalize the Neville Fernando Hospital and not to be listed in the stock market.
He alleged that the government was purposely misleading the people without giving a solution to the issue adding that President Sirisena should immediately correct his statement.
He also alleged the Special Task Force (STF) carried out a brutal attack on the unarmed students and purposely targeted the key students who led the student action.
He said the intelligence units collected information about the students who actively contributed to the demonstration and purposely targeted them. (Thilanka Kanakarathna)
Video by Susantha