---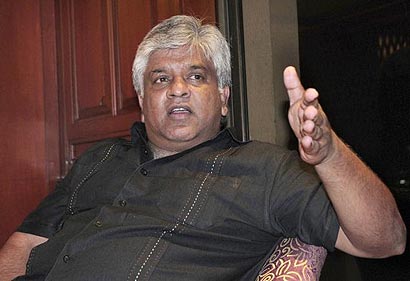 World Cup winning captain Arjuna Ranatunga yesterday demanded an immediate inquiry into the 2011 ICC Cricket World Cup final between Sri Lanka and India played in Mumbai, India.
He said this in response to comments made by former Sri Lanka Captain Kumar Sangakkara who earlier questioned as to whose responsibility the 2009 Tour of Pakistan was arranged.
Sangakkara asked that an investigation be made into why the team was sent to Pakistan when there were no proper answers to security concerns.
WATCH THE VIDEO -​Courtesy : Ada
"If Mr. Sangakkara wants an inquiry into the tour of Pakistan then they should have one. But I think we should also inquire what happened to the Sri Lanka Team during the 2011 World Cup final. I think this is something that the Sports Minister should look into rather than concentrating on fitness issues," Ranatunga, the Minister of Petroleum and Renewable Resources said.
"I was on the panel of commentators during this World Cup final, and I was really disappointed with Sri Lanka's performance."
"I cannot reveal what happened on that day, but I would someday reveal the truth. So, I think we should hold an inquiry into this matter," Ranatunga said.
"S. Liyanagama was the Competent Authority at that time and I was the President of the Asian Cricket Council (ACC) a few months before. We played the Asia Cup in Pakistan without any incident and the tournament was a success. After that 'Charlie Austin's team' informed me that they want to go for the IPL (Indian Premier League). I refused to endorse the request as I could not betray my country. After that, the former Sports Minister Gamini Lokuge removed me from the Cricket Board," Ranatunga said.
Sri Lanka lost the 2011 World Cup final under the captaincy of Kumar Sangakkara.
He made this statement at a press conference held at the Ceylon Petroleum Corporation office in Colombo. (Ada)