---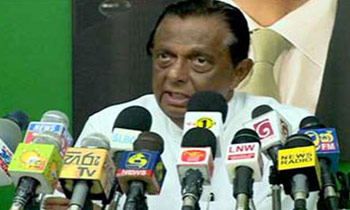 Responding to the allegation that he had attempted to assault a journalist, Minister John Amarathunga said he was provoked excessively by the journalist and it was beyond the limit of his patience.
Commenting on the recent incident that took place at his house in Kandana, at a media briefing at UNP Headquarters Sirikotha yesterday, the minister said journalists should not abuse the freedom they have and that he had warned this journalist on several occasions earlier as well.
"I have had connections with journalists for a long period of time and never experienced such an incident. Journalists should be disciplined and moderate in their behaviour but some acted in an arrogant manner . He has also complained to the Human Right Commission- but he cannot do so as this incident happened in my residence," the Minister said.
He also said some tried to take these incidents as opportunities to go abroad. I had asked them to leave as they were trying to send us beyond the limits of our patience
The incidents in the past when the journalists were suppressed are known to us and this recent event is comparatively simple, he said. (Sujith Hewajulige)
Video by Buddhi