---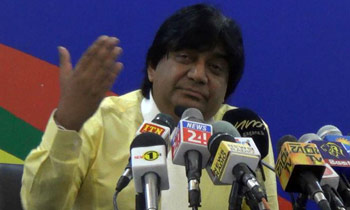 The reason for responding to Bodu Bala Sena (BBS) General Secretary Ven. Galagodaaththe Gnanasara Thera was that he was considered a political leader, SLFP Spokesman and Minister Dilan Perera said.
"I was not talking about the Asgiriya Chapter but about a political party. Ven. Gnanasara Thera was in a political party and contested the 2015 Parliamentary Elections but failed. I respect Buddhist monks" he said while addressing the media during the SLFP media briefing at the party headquarters today.
When a political issue was raised by a Buddhist monk, who was in a political party, I should respond on the political issue. I have never insulted Ven. Gnanasara Thera But he insulted me reminding all animals except the lion. But I did not respond out of compassion.
"I have no hard feelings against the Asgiriya Chapter and my stance over Ven. Gnanasara Thera also remains the same," Minister Perera said. (Chaturanga Pradeep)