---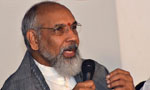 I boycotted Sinhala language as I hated the Sinhala Only Act, NPC Chief Minister C.V Wigneswaran said.
"I stopped learning Sinhala as I disliked the implementation of the Sinhala Only Act. Hence, I explain our political shortcoming to the Sinhala media in my own broken Sinhala. If I had learnt Sinhala language properly I could have responded to any politician in fluent Sinhala," he said after declaring open the Kalaimagal statue in Kokkuvil Hindu Primary School in Jaffna yesterday morning built at a cost of Rs.700,000.
He said if meaningful reconciliation was to take place one had to learn the other's language.
"Our people who go to Norway learn their language. Similarly, those who go to France learn French but sadly we ignore the Sinhala language. I started to learn Sinhala in 1955 and stopped learning when the Sinhala Only Act was implemented in 1956. Now I am talking to the Sinhala media about our shortcoming in broken Sinhala," he said.
"Our Sinhala brethren have started to learn Tamil as a compulsory language. Sinhala officers fluent in Tamil will be sent to the North and East very soon. Hence, we have to be cautious. Those who are not fluent in Sinhala language will be sidelined. Therefore forget politics and nurture your knowledge in Sinhala, NPC Chief Minister C.V Wigneswaran said.