---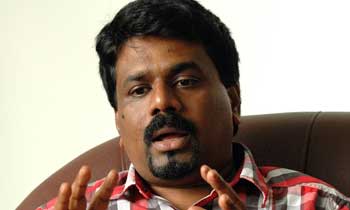 The Janatha Vimukthi Peramuna (JVP) yesterday urged the Government to hold the Local Government elections immediately stating that there were no barriers preventing the poll now with the passing of Local Government Elections (Amendment) Bill in Parliament last week.
JVP Leader Anura Kumara Dissanayake told a news briefing that the Local Government elections could be held without further delays as the shortcomings of the Local Government Elections Bill, which was passed in 2012 had been corrected by the amendment.
"The Speaker should endorse the Bill immediately while Local Government Minister should do the rest so that elections could be held within 70 days as assured by the Chairman of the Elections Commission," Mr. Dissanayake said.
He said the shortcomings, which were in the Local Government Election Bill originally passed in 2012, had been rectified.
"The Amended Bill has ensured that the true will of the people is reflected by selecting 60 percent of the members through First Past the Post (FPP) system and 40 percent on Proportional Representation (PR) basis.
"Only the two main parties could get their members elected under the original legislation as only 30 percent of the members are to elected on proportional representation basis," he said.
He said the reduction of deposit payment was another positive factor in the new legislation.
The Bill he said when taken as a whole was a victory for democracy.
Meanwhile, the JVP urged the Government to bring in the National Audit Bill so that Independent Audit Commission could carry out its work effectively.
"Though an Independent Audit Commission is set up under the 19th Amendment to the Constitution, its duties and powers are not determined effectively. These duties and power could only be determined by the Audit Bill," Mr. Dissanayake said.
In the meantime Mr. Dissanayake, who responded to a question raised by journalists on the proposed 20th Amendment to the Constitution, said his party would have to study the proposals.
"We have to study the real aspirations of the Government in bringing this piece of legislation though we are favourable towards holding the elections of all Provincial Councils on the same day. However we cannot endorse postponing of elections on certain councils," he said. (Yohan Perera)
Video by Amantha