---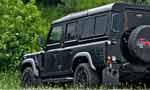 A Defender belonging to the Presidential Secretariat was taken into custody by the Kotadeniyawa Police last night in connection with a hit and run accident in Kithulwala on February 25.
A 67-year-old woman died from the accident. Police said the vehicle was found abandoned at a residence in Pugoda and no arrests had been made so far.
"Police investigations are continuing to ascertain if the vehicle taken into custody is the vehicle involved in the accident," they said. The vehicle is to be handed over to the government analyst for further investigations.