---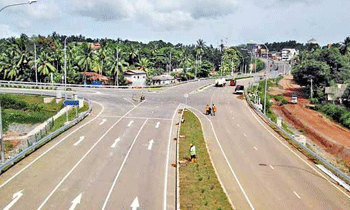 The government is attempting to lease out the three expressways to a Chinese Company called 'Shandong', the Pivithuru Hela Urumaya (PHU) claimed today.
It said a proposal was to be presented to the Cabinet this week to lease out the Southern, Katunayake and Colombo Outer Circular Expressways.
"The expressways are among the latest to fall prey to government moves. The Cabinet paper seeks approval to lease out the highways for US$600 million. The government might say it is not selling but leasing out the expressways. However, if an asset carries a lease of more than 10 years, it is considered a sale," party leader Udaya Gammanpila told a news conference.
He said the ministers had discussed the matter at the previous cabinet meeting and a senior minister had suggested to create an authority to control the expressways and sell shares of that authority to the Chinese Company.
"This suggestion has been made to overcome any opposition by the people. Regardless of the method adopted, we are completely against this move," he said. (Lahiru Pothmulla)