---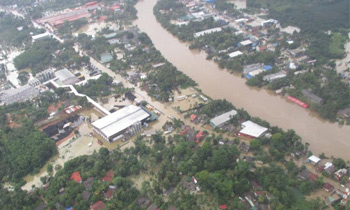 Despite falling water level in the Kelani, Kalu, Gin and Nilwala rivers, the Disaster Management Center (DMC) requested the public to be vigilant of disaster situation as heavy showers were expected this evening.
Meanwhile, the Meteorology Department today said the Cyclonic storm 'MORA' in the east central Bay of Bengal was moving away from the island and was expected to make land fall tomorrow in Bangladesh.
"Under it's influence cloudy skies, windy and showery conditions are expected over the country. Very strong winds about 80 kmph can be expected. Showers or thundershowers will occur at times in the Western, Sabaragamuwa, Southern, North-western and Central provinces," a statement by the Department read.
The department warned that heavy showers above 100 mm can be expected in some areas and showers or thundershowers will occur at several places in the Northern and North-Central provinces and in the Trincomalee district.