---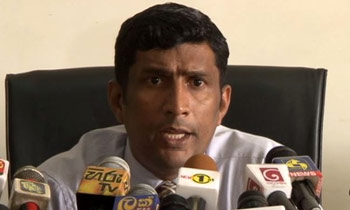 The Government Medical Officers' Association (GMOA) today urged the Health Ministry to immediately implement the transfers of the doctors by dodging the ministry's weaknesses without criticising others in order to conceal their shortcomings.
GMOA Secretary Dr. Naveen de Soyza said that the entire health sector had been deteriorated due to several actions taken by the Health Ministry and added that the ministry's arbitrary nature had risked the lives of the innocent patients.
"Health Ministry's responsibility is to implement the transfers of the doctors in a transparent manner by following the establishment code. But unfortunately the ministry has delayed the internal transfers of the specialists for seven months," he said.
He said that the transfers for doctors attached to the North Eastern Province had been delayed for two years. He also said that special appeal list had been subjected to the same fate.
He said that the inconvenience faced by the patients due to this issue was inevitable and added that there would be risk of closing down the terminal hospitals as the result.
"The terminal hospitals which are ready to open, have also halted due to this delay in doctors' transfers," he said. (Kalathma Jayawardhane)
Video by Danushka