---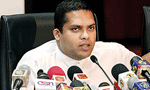 Telecommunication and Digital Infrastructure Minister Harin Fernando said yesterday he had requested the Finance Minister to remove the taxes imposed on smart phones in the next budget so as to promote data calls among the users.
He said people in other countries use more data calls than voice calls whereas people in Sri Lanka still use voice calls as they do not have access to enough facilities.
"The use of voice calls in other countries is only 20 per cent. We still use voice calls to a great extent. I requested the finance minister to remove all taxes imposed on smart phones. We are doing a detailed study on this matter and will submit the recommendations for the 2017 budget,' he said.
When asked about the VAT imposed on mobile phones, the minister said the ministry was hoping to mitigate the impact on the users in the next budget and will submit recommendations on this matter as well.
He said the government had planned to allocate a huge amount of money to improve telecommunication facilities and added that such development plans would not be possible without imposing taxes. (Ajith Siriwardana)
Video by Danushka