---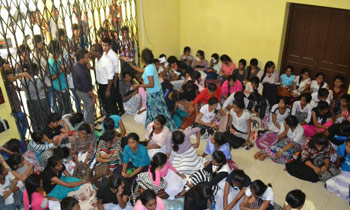 The Hardy Advanced Technological Institute in Ampara was closed indefinitely by its Director General today following a tense situation which arose at the institute last evening.
It was reported that a group of students had taken hostage the Director of the institute by surrounding his office.
Previously, two groups of students had clashed at the institute premises. Several students who were injured in the clash had been hospitalized while 10 students had been arrested by the police.
After the clash and the arrest of the students, one group of students had surrounded the office of the Director taking him hostage.
Ampara Police intervened to control the tense situation by removing the students who behaved in an unruly manner from the institute premises. (By Wasantha Chandrapala)