---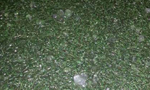 Residents in Diyatalawa experienced a hail storm for fifteen minutes followed by heavy rains and thunder showers around 1.00 p.m. today.
The hail storm started with tiny icicles and gradually grew to the size little larger to moth balls, residents said.
Meanwhile, the Meteorology Department said thunder showers could be expected in many Provinces of the country after 2.00 pm in the coming days.
Speaking to the Daily Mirror, Meteorologist Nimal Bandara said the prevailing heat would continue in the mornings despite the rain.
"Strong winds could prevail during thundershowers in several areas," he added.
The Department warned the public to be alert in order to keep away from the accidents occurred due to thunder showers during the rains. (Kalathma Jayawardhane and Saman Palitha Nanayakkara)