---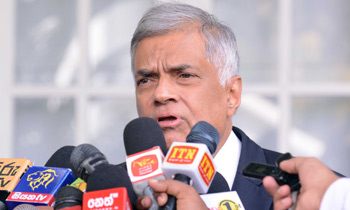 The Government will bring in new laws to stop religious and ethnic violence if needed, Prime Minister Ranil Wickremesinghe said today.
Mr. Wickremesinghe in a special statement to the media said, this would be done in line with the policy of this government and the pledge given by President Maithripala Sirisena when he was elected to office in 2015.
"The cabinet decision was made to ensure religious and ethnic harmony in the country and to re-ensure this policy of the government," he said.
"We have informed the police to take action against those who have attacked Islamic places of worship and business establishments which belong to Muslims, and also to arrest those who are engaged in religious and ethnic violence. We have not stopped taking action against such persons. The country's reputation has been damaged in the past and we don't want that to happen again," the Prime Minister said.
"I am proud to be a Sinhalese, a Buddhist and a Sri Lankan. However, I respect all religious, ethnic groups, and different cultures. We cannot be good Sri Lankans if we do not respect all religious, ethnic groups and different cultures in this country," he added.
Video by Danushka