---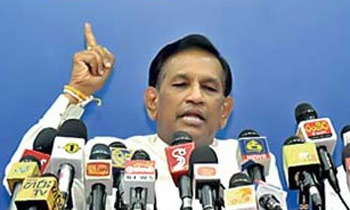 The Government is ready to take tough action, which had not been taken previously, with regard to the indefinite strike announced by the GMOA, Health Minister Rajitha Senaratne said today.
Addressing a news conference, the Minister said people condemned the actions of the GMOA's strike when there was an increase of dengue patients.
"These are not medical doctors. GMOA doctors too receive their salary from the Ministry. If they have an issue with the steps taken to eradicate dengue menace, the doctors should take that responsibility as well," he said.
He said the strike had been launched with the intention of making way for the GMOA doctors, who are from rural areas to represent the GMOA Executive Council.
Referring to the Wednesday's protest by the Inter University Students Federation (IUSF) and the protesting students' behaviour, the Minister said they had caused damages amounting to millions of rupees to the Health Ministry complex.
"Some of the students had even harassed the employees of the ministry. Many people who visited the Ministry on Wednesday for the public day assistance were put in a difficult situation. The irony is, after causing many damages to the Ministry building, the students received treatments from the National Hospital, which is under the Ministry," he said. (By Lahiru Pothmulla)
Video by Janaka