---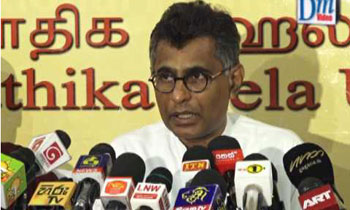 The Jathika Hela Urumaya (JHU) said today the government should represent on behalf of the rights of former army commander Jagath Jayasuriya as he was a government servant and had acted legally according to international laws.
JHU General Secretary and Minister Champika Ranawaka told a news conference that General (Rtd) Jayasuriya did not carry out a private duty but he carried out a collective responsibility as an army officer of the Sri Lanka Army belonging to the legally and democratically elected government.
"The government should intervene in the case filed against the former army commander. He performed a duty of the army. The government has a responsibility to represent on behalf of this government servant"
"The duty he performed as the Vanni commander is legal and conforms to local and international laws. He carried out a collective responsibility to protect the President, Cabinet and the people in the country. He contributed to bring in peace to the country," he said.
He said if there were moves to file war crime allegations against the army heads, people in the country would be compelled to demand legal actions against 12,000 LTTEers in Sri Lanka.
"About 12,000 LTTErs who surrendered to the army during the war were released by former President Mahinda Rajapaksa without any observation or proper procedure. People in the country would be compelled to demand legal action against them instead of reconciliation if army heads were taken before court for war crimes. It is a regrettable situation," he said.
When asked about the incident of distributing leaflets by a group attached to the LTTE in Jaffna on Wednesday, he said he was unaware if it was done by the LTTE and added that such moves should be prevented without any mercy. (Ajith Siriwardana)
Video by Richan