---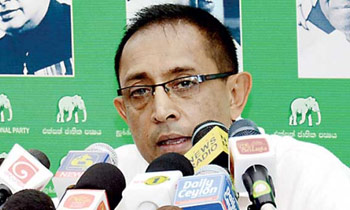 Though powerful countries like the US, China, India and Japan were affected by global economic crisis in 2016, Sri Lanka was able to remain unaffected because of the Yahapalanaya Government's economic strategies, UNP General Secretary and Minister Kabir Hashim said today.
Addressing a media briefing at Sirikotha, Minister Hashim said the world's economic growth was reversed in 2016 due to the drought which affected most of the counties and their agricultural industries.
"The economic growth rate in China dropped down to 6.9 percent in 2015 and it was the record drop after 25 years. In 2016, China's economic growth rate dropped to 6.7 percent," the minister said.
He said Sri Lanka bears a huge debt burden but the present Government had managed to take the country forward and stablise the economy. (Chaturanga Pradeep)