---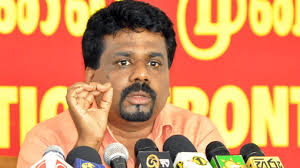 The Government not only needs to remove the Central Bank Governor Arujuna Mahendran from his post but also should claim damages from him and the company owned by his son-in-law, the Janatha Vimukthi Peramuna (JVP) said today.
JVP Leader and Chief Opposition Whip Anura Kumara Dissanayake told a media briefing that the government should recover the extra funds earned by Mr. Mahendran's son-in-law from the fraudulent purchase of bonds.
Mr Dissanayake said the interest rate of the final phase of the March 2015 bond issue jumped to 14.6 percent whereas the interest rate of the initial phase was 12 per cent.
"In his address to the nation on August 2016, President Maithirpala said he had told Prime Minister Ranil Wickremesinghe that Mr. Mahendran should be asked to resign as otherwise it will tarnish the PM's image. This clearly shows that the President is fully aware that something fishy had taken place," he said.
Mr. Dissanayake said the government could not pass the buck on the parliamentary Committee on Public Enterprises (COPE) as it had been appointed to carry out the specific task of monitoring public institutions and not to penalize anyone.
"It is the President and the Prime Minister who should act now," he said. (Yohan Perera)
Video by Amantha