---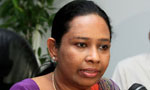 Former Power and Energy Minister Pavithra Wanniarachchi today said it was uncertain whether the island-wide power cuts were simply a result of the Government's inefficiency or it was mulling to purchase electricity from the power stations belonging to the private sector, for exorbitant prices making the power cuts an excuse.
"Our government amended the Power and Energy Act to make sure that electricity would be purchased from private sector only through open tenders. Today, it seems the Government is mulling to amend the Act probably with the intention of purchasing electricity from the private sector for exorbitant prices," she charged.
Addressing a news conference organised by the Joint Opposition at the Dr. N. M. Perera Centre in Borella, the MP said both the Cabinet and the Government had failed to provide the required guidance and assistance to Power and Energy Ministry and Ceylon Electricity Board (CEB) officials.
"Deploying military personnel to guard power stations won't stop power failures. This is not the first instance where a transformer exploded or a cable was broken in the history of the power supply in Sri Lanka. In our time too transformers exploded but we were efficient enough to prevent island-wide power failures," MP Wanniarachchi said.
She said there were 'protectors' in the power grid and these protectors could make sure that a failure in a specific location of the grid won't affect the entire power supply of the country. (Lahiru Pothmulla)
Video by Buddi