---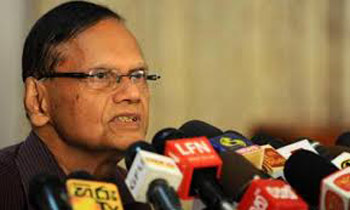 The government is lying when it says that the Convention for the Protection of All Persons from Enforced Disappearances would not have a retrospective effect, the joint opposition said today.
Former MP G.L. Peiris told the weekly news conference that the convention would not only permit action to be taken against personnel accused of future incidents of enforced disappearances but also on past incidents.
"The convention can and will be used to take action against armed personnel who fought terrorists during the final phase of the war in 2009. This piece of legislation will allow the arrest of Sri Lankans when they visit a foreign country. Sri Lanka is also bound to extradite a person against whom a foreign country makes allegations," he said.
Mr. Peiris claimed that Sri Lankans would be arrested and extradited based on a mere accusation made by foreign countries and not on gathered evidence. "The arrested Sri Lankans could be tried at international courts such as the International Criminal Court based on the allegations," Mr. Peiris said.
He said western countries including the US, Britain and Canada had not signed the convention whereas Scandinavian countries including Finland, Norway, Sweden and India had not ratified it though they had signed the convention.
Meanwhile, JO leader and MP, Dinesh Gunawardane said the convention would create a harmful environment for former president Mahinda Rajapaksa, former defence secretary Gotabaya Rajapaksa and the security forces personnel who defeated terrorism. (Lahiru Pothmulla)