---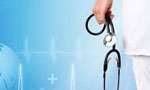 Government doctors would hold a token strike at main State hospitals in Kurunegala, Kandy and Matara tomorrow from 8 a.m. to noon over an anomaly in admitting Government doctors' children to State schools, the GMOA said today.
"Two hundred doctors are still waiting outside Education Ministry, requesting a meeting with Minister Akila Viraj Kariyawasam," Dr. Haritha Aluthge of the GMOA said.
"Unless a positive response is given by the Minister today, they would go ahead with the strike action tomorrow morning," he said.
He said some doctors were transferred every four years according to the special transfer scheme and some doctors go for overseas training, and hence find it difficult to show five-years of permanent residence to get admissions to National Schools for their children. (Piyumi Fonseka)