---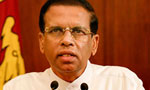 President Maitripala Sirisena, while noting today that the Government was stable, said there was no crisis in the SLFP but only a clash between a group of 'rogues' and those who were committed to taking forward Bandaranaike's policies and principles forward.
Speaking to Newspaper Editors and Media institution heads at the President's House, he said that if anyone thought of toppling the Government it would only be an 'unfulfilled dream."
He said that there was no way that the present Parliament's composition can be changed in a conspiratorial manner to form a different government.
"The UNF has 108 and the UPFA 95. Therefore no one clearly has 113. If someone is making a new Government in a conspiratorial manner, without the consent of Prime Minister Ranil Wickremesinghe and without my blessings, they should show 113 in Parliament.
"To show that 113 they should begin with the UPFA. Can they get the entire 95? They can't. Then let's say they can at least take 50 from that 95. Then they need another 63 to show the 113. Those seats they have to gather from the UNP, JVP or the TNA. I know that the members of the JVP and the TNA will not come to topple this Government. Then they have to get the seats from the UNP. The Government's have been toppled earlier but I have never seen it happening in such numbers ever. Then it has to be a miracle. There won't be crossovers in 30, 40, 50 or 60 in numbers. Therefore it cannot happen," he said.