---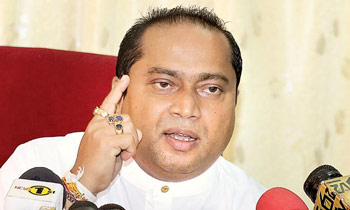 Former Defence Secretary Gotabhaya Rajapaksa could not pose a threat to President Maitripala Sirisena as a next Presidential Candidate because he could not attract votes from the north and the east as seen crucial for the final outcome at the last election, Western Province Chief Minister Isuru Devapriya said today.
Mr. Devapriya, handpicked by President Sirisena for the Chief Minister post, said Gothabaya Rajapaksa was only a military officer and not a seasoned politician like President Sirisena.
"Candidate of the Sri Lanka Freedom Party (SLFP) for next Presidential Election should be a person, who can attract each and every citizen in the country," he said.
He said that the southern people's votes were divided at the last Presidential Election.
"Therefore a candidate should be able to gather the support of all ethnic and religious groups to win the Presidential Election," he said.
The Chief Minister said President Sirisena was an asset to the SLFP and would be the candidate for the 2020 Presidential Election.
He also said the other parties already faced difficulties finding a candidate for their parties and making baseless statements.
Meantime, Mr. Devapriya said SLFP had done its part in the Unity Government however; UNP was pulling back in some cases as they had changed their stance, especially in decisions such as Cabinet portfolios.
He said that whatever happened, President Sirisena or the SLFP had not changed their views on the country's issues.
He said the SLFP would drive the country on the correct path regardless of the consent of the UNP. (Thilanka Kanakarathna)