---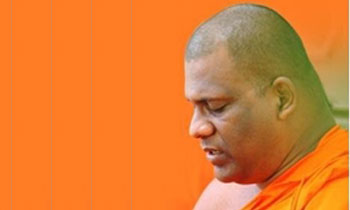 Senior Counsel for Ven.Gnanasara Thero today (31) informed the Court of Appeal (CA) that his client is hospitalized and submitted a Medical Certificate (MC).
The Bench comprising Justices L.T.B.Dehideniya and K.K.Wickramasinghe fixed the contempt matter against Ven. Gnanasara Thero to be mentioned on June 12.
The Court on May 24 ordered that Ven. Gnanasara Thero be produced in Court on the next date (31) with a Medical Certificate, as he was not present in Court.
When the Contempt matter against Ven. Gnanasara Thero came up before the Bench comprising Justices Rohini Walgama (President/CA) and S.Thurairaja, the court directed the Junior Counsel Anusha Perusinghe who appeared for Ven. Gnanasara Thero to undertake to produce him on the next date with a medical certificate.
The Court nominated a new Bench comprising Justices L.T.B.Dehideniya and P. Padman Surasena for inquiry and had fixed the matter for May 31 to be mentioned, to fix a date for inquiry. (S.S.Selvanayagam)