---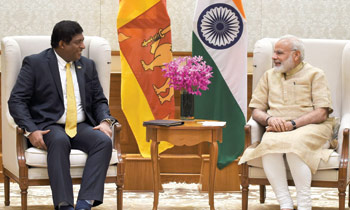 Indian Prime Minister Narendra Modi, who hosted Foreign Affairs Minister Ravi Karunanayake, has said that he is glad to see Sri Lanka improving in every sector.
On his maiden official trip abroad as Foreign Minister, Minister Karunanayake met the Indian Prime Minister Modi at his official residence on Wednesday (7).
Issuing a statement, the ministry said the main focus of the meeting was drawn to broadening commercial activities between the two countries in the tourism and cultural sectors.
"Sri Lanka's tourism promotional campaigns in India are gaining much popularity and emphasized the importance of strengthening tourism related activities between the two countries. The two countries had also discussed the measures to be taken with regard to trade in future," it said.
The Indian Premier and the minister had also discussed the Indo-Lanka fishermen's issue.
Minister Karunanayake informed the Indian Premier that 142 Indian fishing boats are presently in the custody of the Sri Lankan Government and that 42 boats were due to be released after completing due legal process.
Meanwhile, he praised the Indian Government for sending relief assistance to Sri Lanka swiftly following the recent floods and landslides that occurred in the country.
Responding to the minister, Indian Premier Modi has said that India is always ready to help Sri Lanka at any given moment.
Afterwards, Foreign Minister Karunanayake met Indian External Affairs Minister Sushma Swaraj in New Delhi. They discussed ways and means to strengthen diplomatic ties between the two countries. (Lahiru Pothmulla)