---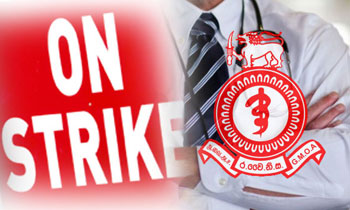 The Government Medical Officers Association (GMOA) said today that they would continue the countrywide strike started today until the Government addressed their demands over the South Asian Institute of Technology and Medicine (SAITM).
GMOA Secretary Dr. Naveen De Soyza said that all its members would refrain from private practices during the period of strike.
The GMOA strike commenced at 8.00 a.m. today.
GMOA Media Spokesman Dr. Samantha Ananda told a news briefing that they had taken this decision with the unanimous approval of its central committee.
"Yesterday, we have decided to launch a countrywide token strike starting from 8.00 a.m. The recent reason for this decision was to condemn the brutal attack on university students, who protested at the Health Ministry building," he said.
He said the token strike was launched islandwide except in the emergency units, dengue control units, hospitals in disaster affected areas, maternity, children, kidney and cancer hospitals.
He said the GMOA's Executive Committee would take a decision with regard to the strike.
He said the decision to launch an indefinite strike was taken for two reasons, including not extending the tenure of Professor Carlo Fonseka as the Chairman of the Sri Lanka Medical Council (SLMC), a decision taken by Health Minister Rajitha Senaratne.
Meanwhile, GMOA Secretary Dr. Naveen De Soyza said the strike would continue until they won.
"We are ready to hold discussions with any party except Health Minister Rajitha Senaratne. We have attempted many times to solve the issue with him through discussions and all went in vain," he said. (Kalathma Jayawardhane)