---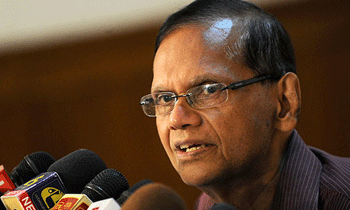 Joint Opposition stalwart Prof. G. L. Peiris today filed a petition at the Supreme Court against the draft 20th Amendment to the Constitution.
Prof. Peiris told a news conference that the government should go for a referendum even though the draft 20th Amendment to the Constitution would get approved in Parliament with a two-thirds majority.
"The government is coming up with baseless reasoning to justify this Amendment. They are claiming that this Amendment would be in favour of the people and it is for their well-being. All these claims are false, this Amendment is a fraud," he added.
He said that the true reason behind the Draft 20th Amendment to the Constitution was to postpone all the elections, even though the government had claimed that they were in need to hold Provincial Council elections in one day.
He said that according to the Constitution, it was mandatory to hold the three Provincial Council elections before the end of 2017. He also said that it was necessary to hold the elections at the accurate time in order to stand with the universal franchise.
"The government is also in an attempt to delay the Presidential Elections by claiming that it is necessary to hold Presidential and Parliamentary elections in the same day. It is impossible to delay the Presidential election and we will not let it happen. The next Presidential election will have to be held at the end of 2019," he added.
He said that several Joint Opposition's front-liners would file petitions against the draft 20th Amendment to the Constitution in coming days. (By Kalathma Jayawardhane)
Video by Buddhi