---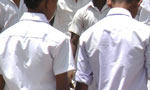 Students of a reputed boys' college in Colombo, who attempted to scale the walls of the Bishop's college in Colombo during the big match season, were taken in for questioning by the police.
When fourteen such students were produced before the Colombo Fort Magistrate and Additional District Judge Priyantha Liyanage, he ordered that they be released on surety bails signed by their parents.
The Judge, admonishing the parents of these students, said that they should take measures to avoid a repetition of acts of this nature in the future.
The police, who were informed that a group of boys in coloured clothing were attempting to scale the walls of the girls' college, had gone into action and arrested them after catching them in the act.
Police sources revealed that while there had been more than 400 students at the site at the time they arrived, they had only been able to apprehend 14 of them. They also said while there had been reports of similar instances of hooliganism witnessed at other schools in the Colombo District special arrangements had been made to provide police protection to girls' schools in the district until the 'big match' season concludes.
The magistrate had ordered the police to provide details of the errant students to the principals of their colleges. (Sumiththa Jayawickrama)