---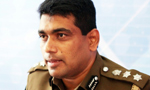 The National Police Commission (NPC) has recommended that fourteen Senior Superintendents of Police (SSPs), including SSP Ajith Rohana, be appointed as acting Deputy Inspector Generals of Police (DIGs).
NPC secretary Ariyadasa Coorey said the appointments would be on temporary basis on account of service requirements.
He said there were a number of vacancies for DIGs. "Therefore we selected fourteen SSPs who had not yet completed their eight years of service as SSPs to be appointed as acting DIGs," he said.
He said the appointments would be made next week following approval by the IGP.
Priyantha Jayakody, Champika Siriwardane, Wasantha Wickremesinghe and Nimal Perera were among the selected SSPs. (Darshana Sanjeewa)