---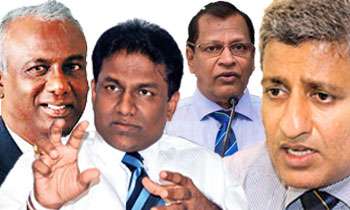 Incumbent Thilanga Sumathipala will face familiar foes Jayantha Dharmadasa and Nishantha Ranatunga in his bid to remain as President of Sri Lanka Cricket (SLC), when it conducts its elections on May 31.
Vice President Mohan de Silva has also handed in his nomination for the President's post, while also contesting the posts of Vice President and Secretary.
Dharmadasa, who was part of Sumathipala's team at the last elections in 2016, served as SLC Vice President overlooking international cricket, before tendering his resignation halfway through the term last June citing the poor performances of the national team.
Meanwhile, former Secretary Ranatunga, whose attempt to return to cricket administration at the last elections with his brother and former World Cup winning captain Arjuna Ranatunga ended in defeat to Sumathipala, is contesting for the President and Secretary posts.
Other nominees for the post of Vice President are incumbent K. Mathivanan, Shammi Silva and Hirantha Perera, who has also handed in his nomination for the post of Secretary.
Shammi Silva has also handed in his nomination for Treasurer, the post he currently holds at SLC.
Bandula Dissanayake will contest the post of Secretary and Treasurer and will come up against Eastman Narangoda for the latter position.
The SLC general membership on Saturday appointed an elections committee, in accordance with the Sports Law, chaired by Rasika Weeratunga and comprising Buddhike Illangetilleke, Commodore K. A. Sanath Uthpala, Jude Perera and Devagiri Bandara.