---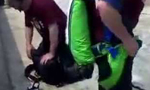 A member of a foreign team of basejumpers was admitted to the National Hospital in Colombo a short while ago, after an accident at an exhibition held at the World Trade Centre in Fort.

The member, a 44-year-old Australian national, fell to the ground after a failure in his parachute and was unconscious upon admission to the hospital.

The team of basejumpers had conducted exhibitions shows yesterday and today.