---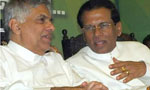 In the wake of President Maithripala Sirisena's outburst against the purported politicization of police, a committee headed by him and Prime Minister Ranil Wickremesinghe is to be set up to take policy decisions of the government regarding matters such as the war crimes probe, budgetary provisions and constitutional reforms, it is learnt.
In consequence to the latest political development, the President met the Prime Minister and Law Order Minister Sagala Ratnayake on Thursday evening.
It is learnt that the President is incensed over, among others, the failure on the part of the police to adhere to some guidelines issued by him. According to sources close to the President, the President was resentful of the manner in which the police acted in handling certain cases.
Against this backdrop, a top level committee comprising members from both the United National Party (UNP) and the Sri Lanka Freedom Party (SLFP) will be appointed to decide on policy matters. Sources said a similar committee had been appointed even at the moment, but the desired purpose had not been served because the President and the Prime Minister were not involved in the process.
As a result, the new committee will be formed to take decisions in addition to the Cabinet.
The proposed committee will pay special attention to the next budget as the budget for the current year had flopped.
"The 2016 budget was a total failure. No revenue proposal was implemented satisfactorily. It affected both private and government investments, "a source said. (Kelum Bandara)