---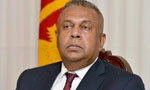 Sri Lankan Foreign Minister Mangala Samaraweera on Friday said India realised the dangers of bottom-trawling, but the two countries should work out a win-win situation for poor fishermen on both sides of the Palk Bay.
"I am sure that we should be able to come to a suitable agreement in the shortest possible time," said the Minister, who in September called for a ban on bottom-trawling, citing its adverse impact on marine ecosystems.
Terming the New Delhi meeting "a great success," he told The Hindu in an interview that both sides demonstrated political will to find a solution and that a "very important first step" has been taken.
On the outcome of the U.S. elections, he said there were certain concerns about some of the policies Donald Trump expounded during the campaign. But "what you say at election time is not always what you do when you are elected". The American system, he said, would steer the new administration along the same path as far as international relations are concerned.
Asked about the recent controversial remarks of the Chinese envoy in Colombo — criticising at a press conference Finance Minister Ravi Karunanayake's view on "expensive" Chinese loans — Mr. Samaraweera said he advised the envoy that any such issue should be sorted through the Foreign Ministry rather than through the media. China is a "good friend" and an important partner in Sri Lanka's economic development, he said.
Mr. Samaraweera, a top leader in Prime Minister Ranil Wickremesinghe's United National Party, which leads Sri Lanka's unity government along with the Sri Lanka Freedom Party, has been at the helm of initiatives aimed at reconciliation.
Asked about concerns voiced by the civil society on the draft of Sri Lanka's new counter-terrorism law, he said his own Ministry had conveyed to an oversight committee its reservation over some of the recommendations in the draft. The final version, he said, would be in line with global norms. "But still the commitment of the government to repeal the earlier Prevention of Terrorism Act (PTA) and introduce a new Prevention of Terrorism Act in keeping with international best practice is as strong as ever." (The Hindu)