---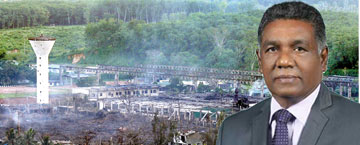 The fire that erupted at the Salawa Army Camp may have occurred while a fire drill was being carried out in the camp and that may have been the reason for the minimal number of casualties, Defence Secretary Karunasena Hettiarachchi said.
"A Court of Inquiry has been set up to inquire into the causes. Therefore, I can't say anything more. Let's wait till the investigations are over," he said at a media briefing held at the Defence Ministry Media Centre and added that action would be taken according to military law against those found responsible for any lapses.
The explosion at the armoury of the Salawa Army Camp resulted in a major fire killing one soldier and injuring several others on June 5.
Mr. Hettiarachchi said the safety of the people would be prioritised.
"Those living in the vicinity of the camp will be allowed to return to their homes after making sure that the area is 100 per cent safe. Most of the residents affected by the catastrophe have now returned home," he said.
Mr. Hettiarachchi said the CID and the Army are investigating the cause of the fire and explosions at the Army Camp. (Darshaha Sanjeewa)