---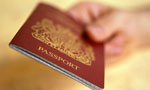 A fake passport and visa racket has been busted with the arrest of five persons, including three Sri Lankan nationals, and fake visa and stamps seized from them, police said today.
A special team arrested three persons, who were the main accused, yesterday after probing into a tip-off that they were allegedly helping fellow Lankans and others procure fake passports as well as visas through fraudulent means.
They were identified as P Krishnamurthy V Rajan and S Muralitharan. Krishnamurthy and Rajan had migrated to Tamil Nadu from Sri Lanka several years ago and they had in the past also served jail terms in connection with fake passport cases, police said.
Police zeroed in on the trio after recently arresting two persons, one of them a Sri Lankan identified as Gunanayagam, who were in possession of nine fake passports.
The accused charged Rs 30,000 per passport and Rs 2-4 lakh for a visa, police said. Over 40 fake visa stamps, 28 fake passports, electronic equipments used for preparing the travel documents, lamination machines and mobile phones were recovered, they said, adding, the three arrested were remanded to judicial custody by a court today. (oneindia)