---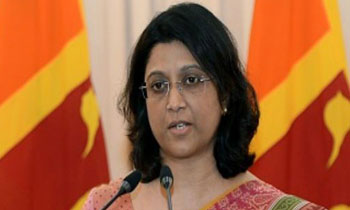 The Ministry of Foreign affairs today condemned suspected terrorist attack in Barcelona, Spain which left at least 13 people dead and nearly 100 injured.
While posting a Twitter message Ministry Spokesperson Mahishini Colonne extended condolences to those affected on behalf of Sri Lanka.
Her Twitter message said, the Government of #SriLanka condemns the terrorist attack in #Barcelona #Spain and extends condolences to those affected.
A van ploughed into the people in Barcelona yesterday which left 13 people dead and injured nearly 100.
The assailant's whereabouts were still unknown as of early Friday local time in what the Spanish Police suspect was one of multiple planned attacks.
Islamic State had claimed responsibility for the deadly rampage along the city's most famous avenue, which was packed with tourists taking an afternoon stroll.
Security forces hunted for the suspect, who was seen escaping on foot.
Media reports said the Police had killed five attackers last night in Cambrils, a town south of Barcelona, to thwart further terrorist attacks using explosive belts.
Six civilians and a Police officer were injured in the operation. (Chaturanga Pradeep)