---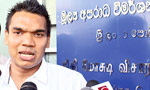 UPFA parliamentarian Namal Rajapaksa has been asked to report to the Financial Crimes Investigation Division (FCID) at 9.00 a.m. today in connection with an investigation into a law firm owned by him.
Police said he would be questioned over some of the transactions handled by the law firm known as Gowers.
On May 31, the FCID grilled Avant Garde Security Services (Pvt) Ltd. Chairman Nissanka Senadipathi over a questionable transfer of Rs.22 million to Gowers, the law and consultancy firm owned by Mr. Rajapaksa.
Sources said the transfer was reported to have been a personal loan granted to the company by Mr. Senadhipathi. But the FCID is investigating the legitimacy of the massive transfer of funds. (Kurulu Koojana Kariyakarawana)