---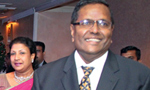 Thirukumar Nadesan, a relative of former President Mahinda Rajapaksa has been arrested by the Financial Crimes Investigation Division (FCID) in connection with the 16 acres of land at Mapitigama in Malwana which was said to have been owned by former minister Basil Rajapaksa.
Mr. Nadesan is married to the former president's niece Nirupama Rajapaksa. The arrest was made after the FCID recorded his statement with regard to the land.
Earlier, Pugoda Magistrate and Additional District Judge D. A. Ruwanpathirana ordered that the block of land be auctioned in the case filed by the FCID against the former minister under the Money Laundering Act.
The controversy deepened after the former minister claimed that he was neither the owner of the block of land nor of the house that was built on it.(DS)
Video by Buddhi