---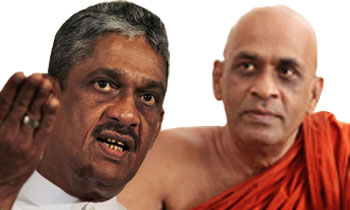 Field Marshal Sarath Fonseka yesterday called Ven. Elle Gunawansa Thera, who condemned the statement he made with regards to war crime charges, a mad man in robes.
"That monk is mad. That's all I have to say," he said in response to a question asked by a journalist after the 71st anniversary celebrations of the UNP held at the party headquarters, Sirikotha.
Speaking further, Minister Fonseka said the Thera had never visited him or helped him as claimed by certain news reports."This monk is simply trying to score marks for the things that others did," he said.
Responding to the assurance given by the President that he won't allow anyone to touch General (retired) Jagath Jayasuriya, the minister said the President meant no international faction would be allowed to act against our soldiers.
"But the President didn't say he would prevent domestic action against soldiers who had committed war crimes. There is a handful of people who have brought disgrace to the army and Jagath Jayasuriya is one of them. Action should be taken against them. Jayasuriya is the one who issued the order to carry out the Rathupaswala shooting as well," he charged.
When asked about reports that the minister was attempting to take revenge against a former counterpart, he said it was he who went to jail due to an act of revenge.
"Should I stay quiet just because I was put behind bars and my family was intimidated?" he asked.
Video by Sanjeewa, Susantha