---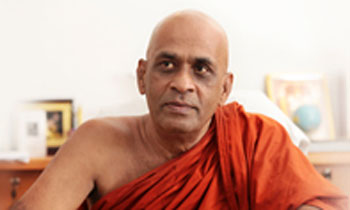 Ven. Elle Gunawansa Thera today commended President Maithripala Sirisena for assuring that he would not allow war crimes charges against former army commander Jagath Jayasuriya but urged him to translate his words into action.
He told a news briefing organised by the Yuthukama Forum that it was the army which saved him when the LTTE attempted to assassinate him twice.
The Thera said a number of other military men who spearheaded the war against the LTTE are being intimidated and punished based on baseless allegations.
"We don't object to action being taken if there is credible evidence against someone of being involved in any fraud or violence. As someone who closely associated with the military and helped to re-recruit deserters back to the armies, I'm disappointed and saddened over the intimidation of soldiers. The latest development I heard is an attempt to arrest former Navy Commander Wasantha Karannagoda via a B report," he said.
The Thera invited President Sirisena to visit him so that the Thera could brief the President about the real state of affairs in the military.
Referring to the statements made by Field Marshal Minister Sarath Fonseka that General Jayasuriya had committed crimes and that he would give evidence against the retired General, the Thera said the Field Marshal should solve any personnel disputes in person without tarnishing the image of the Army.
"I condemn the statement made by the Field Marshal and I'm disappointed he made such a derogatory statement. He had differences with former Navy Commander Karannagoda as well. These issues should be sorted out by them without making them public," he said.
However, the Thera said Minister Fonseka was not even appointed by the people of the country and has no mandate to issue such statements.
Meanwhile, Manohara De Silva PC said the Northern Provincial Council (NPC) was attempting to introduce laws to establish a court to hear cases of war crime allegations.
"This should not be allowed to proceed. Even the allegations levelled against the UN resolution have no basis. That's why they can't take swift action against anyone," he said.
Mohan Samaranayake told a news briefing that the fate that befell on Yugoslavia, Serbia and Kosovo would befall Sri Lanka. (Lahiru Pothmulla)