---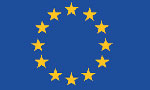 The European Union announced in Brussels today that it would provide a sum of Euro 210 million (the equivalent of Rs. 34 billion) to Sri Lanka for its development up to year 2020.
A statement issued by the Prime Minister's office said this was twice as much as the aid received during the years 2007 to 2013.
European Union is to provide this aid for the establishment of sustainable development, the resettlement of internally displaced persons and the development of poverty stricken areas in Sri Lanka.
Sri Lanka has been commended by the European Union for the progress it has made during the past 21 months. (Yohan Perera)