---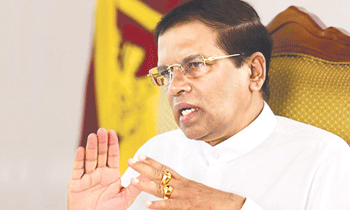 President Maithripala Sirisena yesterday said that he did not like the Attorney General's Department being criticized by anyone and those who criticize must leave alone the AG's Department to work in an independent and stress free environment.
"I don't see any oversight or mistake in the performance of the AG's Department", President Sirisena stressed.
President Sirisena told the Daily Mirror that there were lapses in filing charges against corrupt politicians and officials of the Mahinda Rajapaksa regime but no one talked about what would have happened if there was no regime change in 2015.
He said Sri Lanka has been offered a grace period of two years from March 2017 by the UNHRC to fulfil the undertakings of the resolution co-sponsored by Sri Lanka in Geneva.
While reiterating that there will be no international judges or lawyers in a domestic inquiry on the alleged violation of the International Humanitarian Law (IHL), President Sirisena said it is premature to talk about a domestic inquiry now.
Commenting on the formation of the UNP – SLFP led Yahapalana Government and criticism on the government now by certain political groups, President Sirisena said, "When the two parties agreed to form a unity government in 2015, all approved it. So, why they criticized it now? What would have been the outcome if both parties did not agree to this?" he asked.
Commenting on the setting up of the National Economic Council (NEC), President Sirisena said it was established after consulting the World Bank, Asian Development Bank, the IMF and top professionals in trade and finance.
On the SAITM issue, President Sirisena said it has been over-politicized and beyond any quick remedy.
A discussion has been called by him among vice chancellors of all universities, deans of all medical faculties, the GMOA and officials of the higher education Ministry today to find a long lasting solution. In late 2014 all political parties affiliated to the UPFA vehemently protested against President Rajapaksa's decision not to go for a Presidential poll two years prematurely. I told him not to do it in writing. But he did not listen and declared an elections. He did that because he could not face the hostile attitude of the global community, the west in particular and the impending economic crisis," President Sirisena stressed.
"If there was no regime change in 2015, the global community, the US and EU would have imposed trade embargoes against Sri Lanka and political and military leaders would have taken before International Criminal Court for war crimes. The Yahapalana Government was able to defuse that negative impact on Sri Lanka and no country or international agency now talk about Sri Lanka's war crimes and electric chair. The entire international community is friendly and respects Sri Lanka now. As a result of this positive global atmosphere, Sri Lanka has been able to regain GSP+ and remove fish export ban to the EU," President Sirisena stressed.
"Though we have made a steady progress in the international arena, we have failed to put an end to corruption and waste" President Sirisena said. (By Sandun A Jayasekera)