---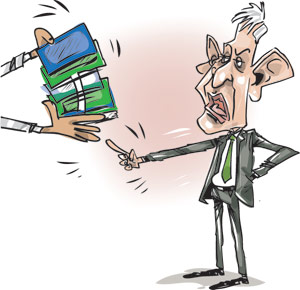 Amid speculation of a Cabinet reshuffle, UNP sources said yesterday party leader and Prime Minister, Ranil Wickremesinghe had informed President Maithripala Sirisena and former president Chandrika Kumaratunga that the portfolios assigned to the UNP should not be changed.
In such a scenario, any reshuffle, will only apply to portfolios held by Sri Lanka Freedom Party (SLFP) members. According to media reports the UNP MPs Bandulalal Bandarigoda and Asoka Priyanatha have expressed views opposing any reshuffling of portfolios currently assigned to the UNP.
Sources said, the UNP leader had at his meeting with the President and the former president highlighted the need to give ample time to the ministers to produce results. He is reported to have said a reshuffle could be considered six months later if necessary.
The 19th Amendment to the Constitution states that it is mandatory for the President to consult the Prime Minister when appointing Cabinet ministers. (Kelum Bandara)