---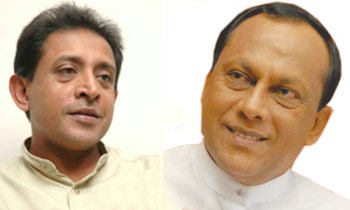 The dispute between State Enterprises Development Minister Kabir Hashim and recently appointed State Minister to the ministry Lakshman Yapa Abeywardena has taken a turn for the worst over space issues .
Under these circumstances Minister Abeywardena's assuming of duties of the new ministry is to be further delayed according to sources.
Minister Abeywardena was due to assume duties in the new portfolio on Friday (02). However after finding that six rooms out of nine assigned for his new ministry office at the East Tower of the World Trade Centre had been acquired by the staff of the minister Kabir Hashim the assuming of duties was postponed till yesterday (5).
Meanwhile the Secretary of State Enterprises Development Ministry told Minister Abeywardena a proper place for the new state minister would be arranged for assuming the duties on Monday (05). However it had not been possible for the secretary to decide on a place for the new minister even till evening yesterday.
Later a discussion was held by officials of the Minister Abeywardena and the secretary of the ministry about office accommodation for the state ministry.
However the Minister is not expected to assume duties today (06) till the problem is solved. Minister Kabir Hashim could not be contacted to inquire about the situation.
Meanwhile a gazette notification to assign the duties among the new ministers and state minters is also likely to be delayed further. (Ajantha Kumara Agalakada)