---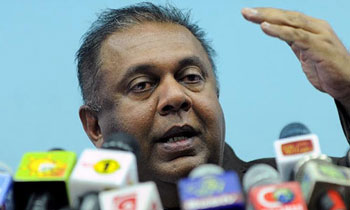 The main objective of the proposed Inland Revenue Bill (IRB) is to introduce a 60:40 direct to indirect tax ratio from the current direct to indirect tax ratio of 20:80 within the next three years with an across-the-board tax regime for taxable income including those at religious places of worship, Finance Minister Mangala Samaraweera said yesterday.
He rejected the joint opposition charge that the IRB was targeting the poor and pointed out that this Bill would help rope in the large number of professionals such as doctors, engineers, surveyors, private tuition masters and architects who evade tax on the millions they earn monthly.
"The proposed IRB aims at taxing each and every one who is legally required to pay tax. If a temple earns an income from leasing out its property, rooms or a building and collects revenue by by issuing tickets to visitors will be liable for tax," the minister said.
"The government expects to pass the IRB by next month after introducing the amendments and the determination by the Supreme Court. We also expect to introduce further amendments proposed by the public and the Opposition at the committee stage. The Bill will be finalized in a transparent manner,' he said.
Referring to the allegations made by the JO that the government was attempting to even tax beggars, he said, "Yes, why not, if the beggar earns Rs.10,000 a day?
The minister said the government would discuss with the Mahasangha before imposing any new tax on income generated by temples and other places of religious or culturally important sites. (Sandun A Jayasekera)