---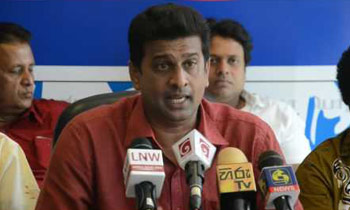 Government's delay in holding the local government elections cost many lives and property damages during the recent disaster experienced due to the adverse weather conditions as the local government institutions were inactive during the period, joint opposition All Island Association of Heads of Local Government Bodies today charged.
The association President Udeni Athukorala said the representatives in the local government bodies were failed to support the affected as most of the Provincial Councils and Pradehiya Sabhas were dissolved during the period.
Mr. Athukorala said during the Former President Rajapaksa's rule the country's local government bodies supported the disaster victims and carried out rescue operations on time to protect both lives and property.
"During MR's tenure just after the disaster happened cooked meals were distributed for the affected. Dry rations were given after three days. When the flood hit Ratnapura at 2014 we were able to evacuate the people in Kalutara as the officials knew it was next target. There was a proper coordination within the local government bodies in the grass-root level," he said.
He said the Provincial Councils and Pradehiya Sabhas contribution were not received in the recent flood and landslide disaster as the elections were not conducted and those institutions are not functioning. He said government media institutions were not carried out any relief programmes.
Mr. Athukorala said the President visited the disaster prone areas while the Prime Minister Ranil Wickremesinghe and Disaster Management Minister Anura Priyadarshana Yapa were out of the country. (Thilanka Kanakarathna)