---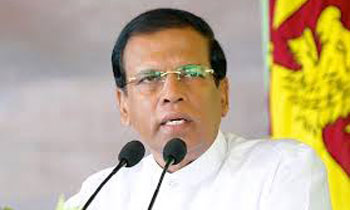 The one-day Parliamentary debate on the Bond Commission's report and the PRECIFAC report scheduled on February 6, is simply a 'gimmick' instead of a fruitful one, President Maithripala Sirisena said yesterday.
In an interview with media personnel at his official residence, the President said this was a debate which should have taken place days ago and continued for days without a disruption.
"The debate was arranged even for a day prior to the local government election on February 10 because of the challenge I threw," he said.
He also said the United National Party (UNP) should take the responsibility of failure to take action against the Rajapaksas over the charges levelled against them.
"When ministerial portfolios were allocated in the unity government, the portfolios which have an impact on taking legal action against wrongdoers were given to UNP Ministers. Therefore, the ministers who are in charge of the Law and Order, the Criminal Investigation Department (CID) and the Attorney General's Department should take the responsibility," he said.
"I'm the one who told to hold the debate prior to February 10. My request grew into a public opinion. Therefore, they had to take this up for a debate before 10. However, I'm not certain to which extent this debate will be successful. It is impossible to debate the contents of two reports within mere hours. On the other hand, I don't believe at least 90 percent of MPs will show up for the debate. The debate should have been held before. Election propaganda activities will come to an end on February 7. All ministers and MPs will be engaged in propaganda activities in their respective wards on February 6 and 7. From that, how many will turn up for the debate? Even if they turned up, how many will engage in the debate productively? For how long one person will talk? This is not a debate which can be done in 5 to 10 minutes. This is deeper than that and complicated. The debate had been arranged in a hurried manner as a mere show to the country only because I made a challenge. The complete responsibility of not taking legal action against the Rajapaksas, should be taken by the Ministers who are holding the Police, the CID, the AG's Department under their purview. I have told this before as well. Then, one may ask whether the same thing will happen to these commissions. It won't because I'm the one who appointed Presidential Commissions. All the other things happened from 2015 were done by the respective ministries. The Anti-Corruption Secretariat office was at Temple Trees. (Ajantha Kumara Agalakada)