---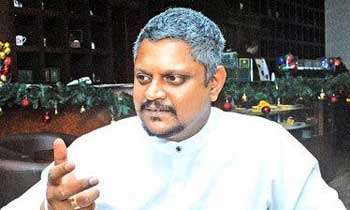 The Sri Lanka Podujana Peramuna (SLPP) said today there was an attempt to bypass the Customs Department when handling foreign firearms brought down to the country and this was why Customs Director General P.S.M. Charles had been removed.
MP Kanaka Herath told a news conference the government was attempting to appoint someone outside the Customs Department who will not hesitate to bypass the Customs Ordinance.
"There are reports of an MoU with the US. There is the expectation of bypassing the Customs when transporting foreign firearms brought down to the country. Recently, an aircraft carrying firearms arrived at the airport. Their hope is to transport all these firearms to a ship harboured in the middle of the ocean by small aircraft instead of going through Customs. A mechanism is in action to bypass Customs," he said.
He said the Customs DG had been removed because Finance Minister Mangala Samaraweera had failed to get her to fulfil his demands and in order to get 'secret' international MoUs implemented.
"This is not something limited only to the Customs. Earlier, the Inland Revenue Department Director General was also removed because he didn't follow the Minister's orders," he said.
(Lahiru Pothmulla)